Product Overview
SDS1000CML+ series is a dual-channel universal digital oscilloscope, available in 70, 100, and 150 MHz bandwidth models. It includes a 2 Mpt memory depth that helps to ensure accurate waveform resolution and to capture longer signal lengths. With its 7-inch TFT-LCD (800*480) screen, there is adequate screen space to help better see and analyze waveform details. Along with a 1 GSa/s sampling rate, the SDS1000CML+ supports 32 parameters measurements and common mathematical operations to speed up complex / repetitive measurements.
Bandwidth
Channels
Real time
sampling rate
Capture rate
Memory depth
Price
SDS1152CML+
150 MHz
2+EXT
1 GSa/s
-
2 Mpts
€389
Discontinued
SDS1102CML+
100 MHz
2+EXT
1 GSa/s
-
2 Mpts
€279
Buy Now
SDS1072CML+
70 MHz
2+EXT
1 GSa/s
-
2 Mpts
€279
Discontinued
Key Features
Supports multi-language display and embedded help
Screensaver from 1 minute to 5 hours
Digital filter and waveform recorder function
Shortcut storage function key
7-inch TFT-LCD display with 800 * 480 resolution
Multiple interfaces: USB Host, USB Device (USBTMC), LAN (VXI-11), Pass / Fail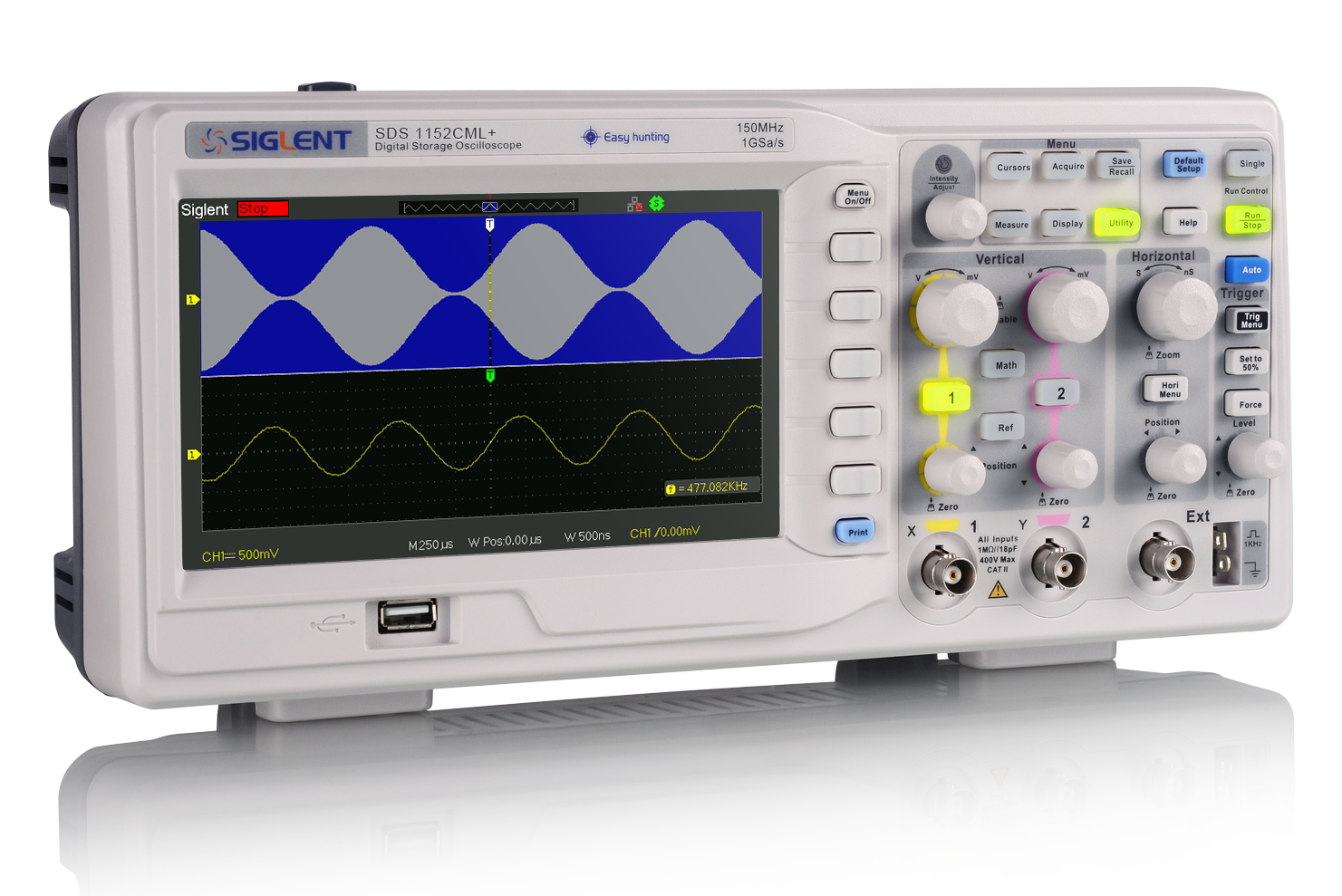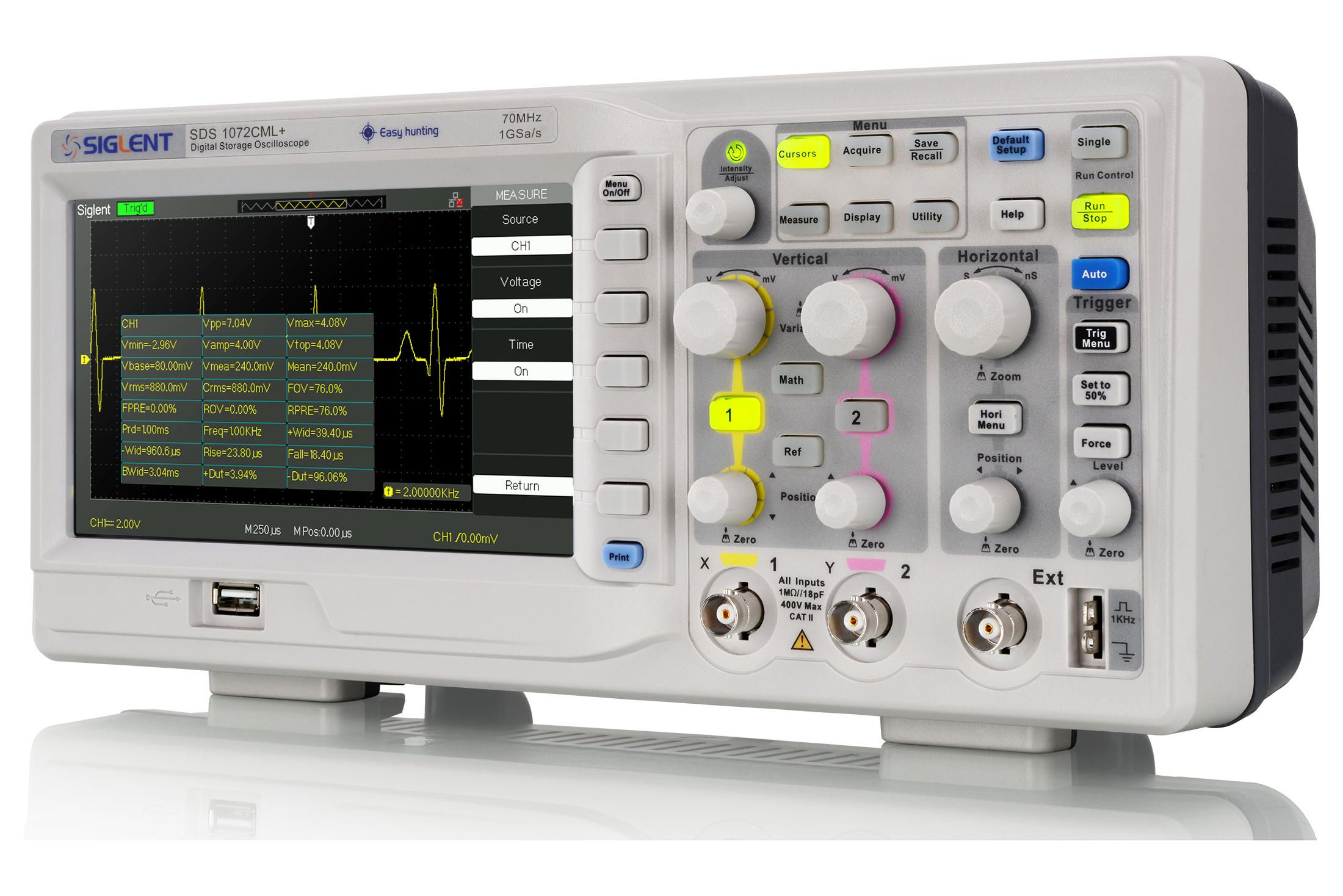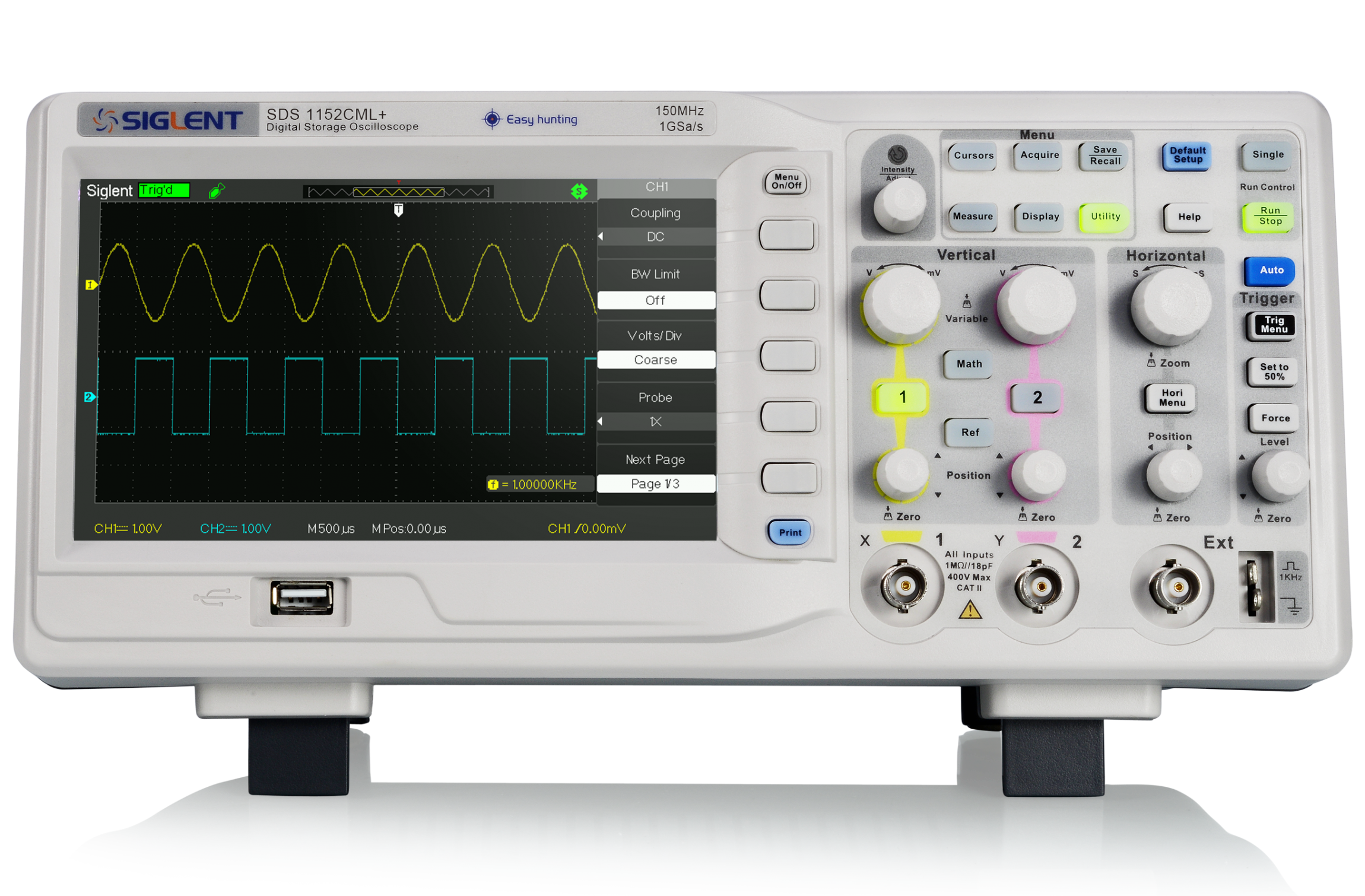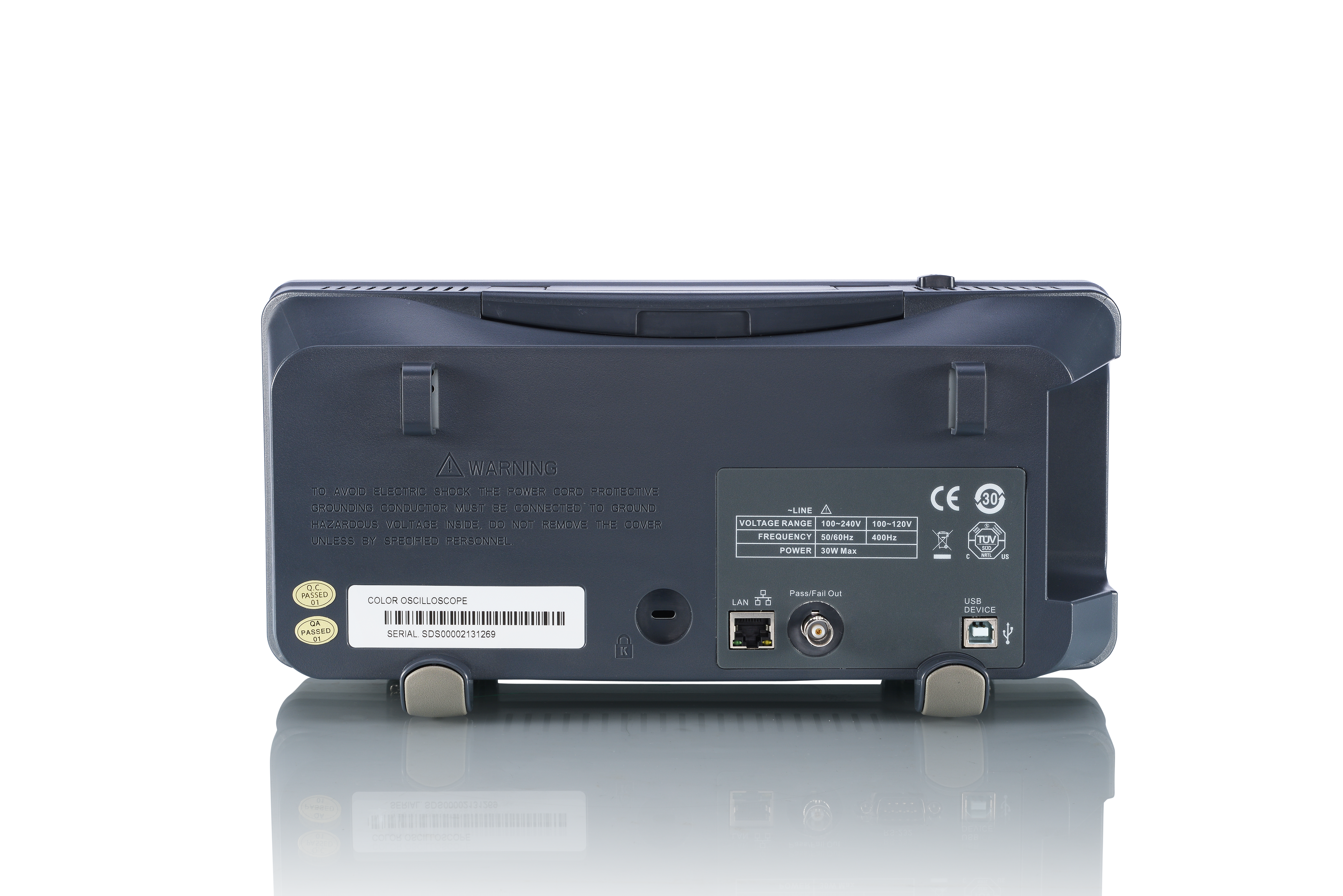 Normal Memory (40 Kpts)
Long Memory (2 Mpts)
32 parameters auto measurements and 5 parameters display View more
32 parameters auto measurements and 5 parameters display
The SDS1000CML+ support voltage, time and delay measurement types, with a total of 32 different parameters. The user is able to select five measurements to display on the screen. All measurement parameters can also be displayed simultaneously.
Zoom Function
Zoom can extend a partial segment of the waveform, giving the user not only an overview of the whole signal but also a detailed view of he zoomed-in segment. The Zoom feature is a convenient way to locatea specific segment of a signal while zooming in to see the details.
Pass/Fail Function
With easy to generate user-defined test templates, the SDS1000CML+ compares the current measured trace to the template mask trace making it suitable for long-term signal monitoring or automated production line testing.
Math Function
SDS1000CML+ provides 5 kinds of math operation: +, -, *, /, FFT, supporting channel waveform and FFT waveform in either split display windows or both signals appearing on the full screen.
Digital Recorder
The digital recorder is able to record data in real-time and without any dead time. SDS1000CML+ supply 7 M of memory for the recorder and support a USB disk.
Digital Recorder Replay
Replaying the data for user to observe and analyze.
Embedded Online Help
Supports Multi-language display and embedded online help, familiarizes the user with all the functions of in a short time.
Abundant interfaces
SDS1000CML+ support USB Host, USB Device (USBTMC), LAN (VXI-11), Pass/Fail
Standard Accessories
---
Optional Accessories
Download PDF Waveform averaging can be a useful method to decrease noise in a particular signal. The SIGLENT SDS series of oscilloscopes can easily collect average waveform data using EasyScope X software. NOTE: At this time, average waveform data is not able to be saved in CSV format via the front panel USB connection to …
Continued