High-Precision Programmable Linear DC Power Supplies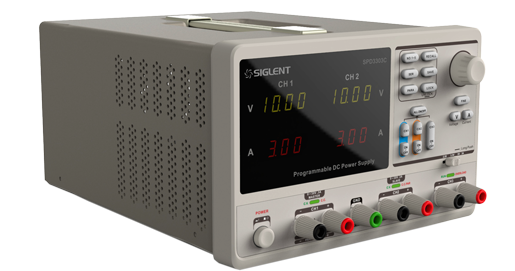 The SPD3303 series is the latest high-precision programmable linear DC power supply family from SIGLENT Technologies. The new SPD3303 series design is based on previous SIGLENT designs and not only combines the outstanding features of its predecessors but also brings many new features; including front panel programming, timing output, graphical display, smart temperature-controlled fan and remote control communications.
The SPD3303 series DC Power Supply has separate output channel control and independent triple outputs, independent, series and parallel output modes which allow you to quickly add output voltage (series mode) or add output current (parallel mode) limits by internally linking output 1 and 2. It also includes many advanced features, including comprehensive over voltage/current/temperature protection, 100/120/220/230V compatible design, low ripple and noise, fast transient response, and a USB remote control interface.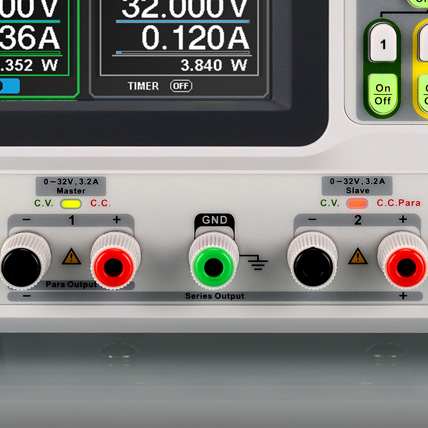 Triple Output with 2 Floating Outputs
Provides individual +, - operation or tie them to ground for +/- sourcing (+/- 12V input for op-amp control, for example)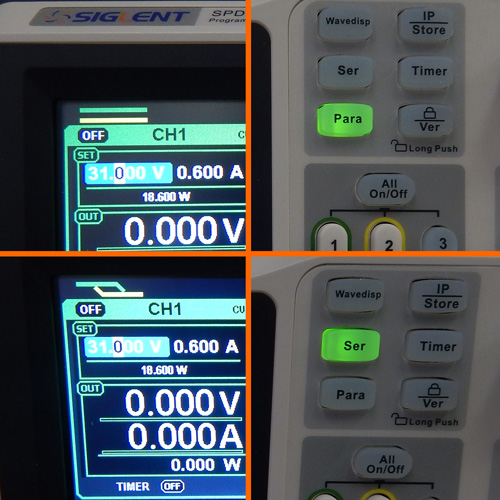 Auto-Series/AutoParallel Connections
Quickly connect CH1 and CH2 in either series or parallel to double voltage/current output (SPD3303X, X-E)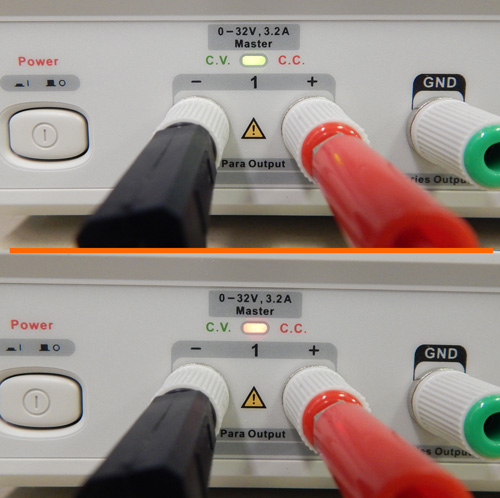 User selectable CC/CV protection limits
Customize your voltage and current limits to protect your circuit/devices
Series
Channel Output
Display
Resolution
Setting Accuracy
Readback Accuracy
Price

SPD3303X / SPD3303X-E
CH1/2: Voltage 0 to 32 V, Current 0 to 3.2 A
CH3: Voltage 2.5/3.3/5.0 V, Current 0 to 3 A
4.3" color TFT-LCD 4 digit voltage display, 3 digit current display
10 mV, 10 mA /
1 mV, 1 mA
Voltage ± (0.5% of reading + 2 digits)
Current ± (0.5% of reading + 2 digits)
Voltage ± (0.5% of reading + 2 digits)
Current ± (0.5% of reading + 2 digits)
€370 - €509
CH1/2: Voltage 0 to 30 V Current 0 to 3 A
CH3: Voltage 2.5/3.3/5.0 V Current 0 to 3 A
4.3'' color TFT-LCD 4 digit voltage display, 3 digit current display (SPD3303D) 5 digit voltage display, 4 digit current display (SPD3303S)
1 mV, 1 mA
SPD3303D: Voltage ± (0.5% of reading + 2 digits) Current ± (0.5% of reading + 2 digits) SPD3303S: Voltage ± (0.03% of reading + 10 mV) Current ± (0.3% of reading + 10 mA)
SPD3303D: Voltage ± (0.5% of reading + 2 digits) Current ± (0.5% of reading + 2 digits) SPD3303S: Voltage ± (0.03% of reading + 10 mV) Current ± (0.3% of reading + 10 mA)

SPD3303C
CH1/2: Voltage 0 to 30 V Current 0 to 3A
CH3: Voltage 2.5/3.3/5.0 V Current 0 to 3 A
LED display 4 digit voltage display, 3 digit current display
10 mV, 10 mA
Voltage ± (0.5% of reading + 2 digits) Current ± (0.5% of reading + 2 digits)
Voltage ± (0.5% of reading + 2 digits) Current ± (0.5% of reading + 2 digits)
€239

SPD1000X
Output Voltage: 0 to 16 V Output Current: 0 to 8 A
2.8 inch true color TFT-LCD 5 digit voltage/4 digit current
1 mV/1 mA
Voltage: ±(0.03% of reading+10 mV) Current: ±(0. 3% of reading+10 mA)
Voltage: ±(0.03% of reading+10 mV) Current: ±(0. 3% of reading+10 mA)
€ 229