Welcome to a new generation of SPO technology.

SIGLENT oscilloscopes feature innovative digital trigger systems with high sensitivity and low jitter, high waveform capture rates (up-to 170,000 wfm/s (normal mode), 750,000 wfm/s (sequence mode)), Many also employ the common 256-level intensity grading display function and color temperature display mode to make troubleshooting even easier.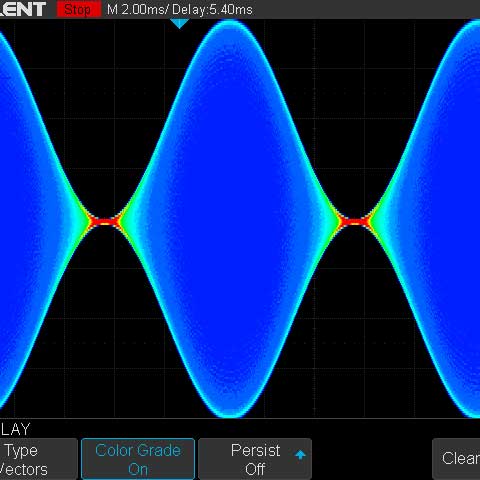 Bright Color Temperature Mode
Event frequency indicated by color temperature. "Hot" colors (red) identify frequent events while "cool" (blue) colors are reserved for events that occur less often.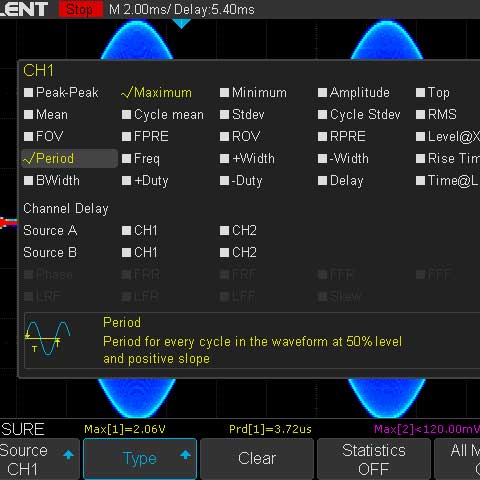 Easy Auto-Measurements
Quickly add one of over 30 automatic measurements like peak voltage, frequency, and more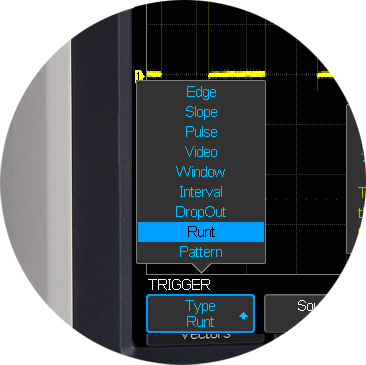 Intelligent Triggers
Edge, Slope, Pulse, Window, Runt, Interval Dropout, Pattern, Video (HDTV supported), and serial trigger modes on many of our oscilloscopes
Series
Bandwidth
Channels
Real time
sampling rate
Capture rate
Memory depth
Price

SDS6000A Series
500 MHz, 1 GHz, 2 GHz
4+EXT
5 GSa/s (10 GSa/s ESR) per channel
Normal mode: 170,000 wfm/s; Sequence mode: 750,000 wfm/s
500 Mpts
€6,480- €9,980

SDS6000L Series
500 MHz, 1 GHz, 2 GHz
8/4+EXT
5 GSa/s (10 GSa/s ESR) @ each channel
170,000 wfm/s (Normal mode), 750,000 wfm/s (Sequence mode)
500 Mpts
€7,380- €29,280

SDS5000X Series
350 MHz, 500 MHz, 1 GHz
2+EXT, 4+EXT
5 GSa/s
140,000 wfm/s (normal mode), and 480,000 wfm/s (sequence mode)
250 Mpts
€2,869- €6,359

SDS2000X HD Series
100MHz, 200MHz, 350MHz
4+EXT
2 GSa/s
500000 wfm/s (sequence mode)
200 Mpts/ch
€2,980-€4,680

SDS2000X Plus Series
100 MHz, 200 MHz, 350 MHz(upgradable to 500 MHz) models
2/4 + EXT
2 GSa/s
120,000 wfm/s
200 Mpts/ch
€899-€1,999

SDS2000X-E Series
200, 350MHz
2+EXT
2 GSa/s
110,000 wfm/s (normal mode)
28 Mpts/CH
€539 - €729

SDS1000X-E
100, 200 MHz
2 +EXT, 4 + 16 digital channels (optional)
1 GSa/s
100000 wfm/s (normal mode),
400000 wfm/s (sequence mode)
14 Mpts
€319 - €659

SDS 1104X-U
100 MHz
4
1 GSa/s
4 00,000 wfm/s
14 Mpts
€359

SDS1000CML+
70, 100, 150 MHz
2+EXT
up to 1 GSa/s
up to 2 Mpts
€279 - €389

SDS1000DL+
50 MHz
2
500 MSa/s
32 kpts
€259